Archimedys™ for equipping ash collectors
The company Cendres+Métaux Refining, specialized in the recovery of precious metals, has chosen Archimedys™ to equip its installations.
The problems associated with a steel auger are disappearing
Refined metals have a very high purity of 999.9 ‰. To obtain this purity, the raw materials are pyrolized and the bottom ash is then subjected to chemical purification treatments. The steel augers used caused problems of iron pollution during the transport stages. Pollution resulting from the abrasion of the ashes on the augers.   Archimedys™ eliminates this problem thanks to the polymer used in its manufacture. The modular augers installed, combined with a plastic tube system, prevent iron pollution at all stages of ash transfer.  Archimedys™ thus contributes to guaranteeing the quality of our customer's production.
Optimal configuration for our customer
The system Archimedys™ DN 4" with a pitch of 4 in was used on two cascade screws to bring the ashes from the dust collector into the storage and chemical treatment area.
Featuring a simple and compact design, the Archimedys™ auger is lighter than a steel auger. Has greatly facilitated installation in the hard-to-reach workshop. The Archimedys auger is simply built, without any welding, by assembling the standard modules along an axis, directly on its place of use.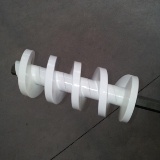 Easy maintenance
The optimization of the recovery process of volatile ashes rich in precious metals was carried out directly by the maintenance department, which was able to build an all-plastic conveyor.
In the event of an incident, only the damaged modules are replaced and put back on the axles without having to replace the auger. Maintenance operations are simpler and very fast. Maintenance costs and response times are reduced.
Archimedys™, technological revolution!
The advantages of the modular auger Archimedys™ are such every day that industrialists decide to abandon steel in favour of the Archimedys system. It is truly a technological revolution that we are witnessing in the transport of bulk products.
Do not hesitate to contact us contact for any information. We carry out the study and the realization of the mechanical parts necessary for the installation or the adaptation of a Archimedys™ auger on your installations.