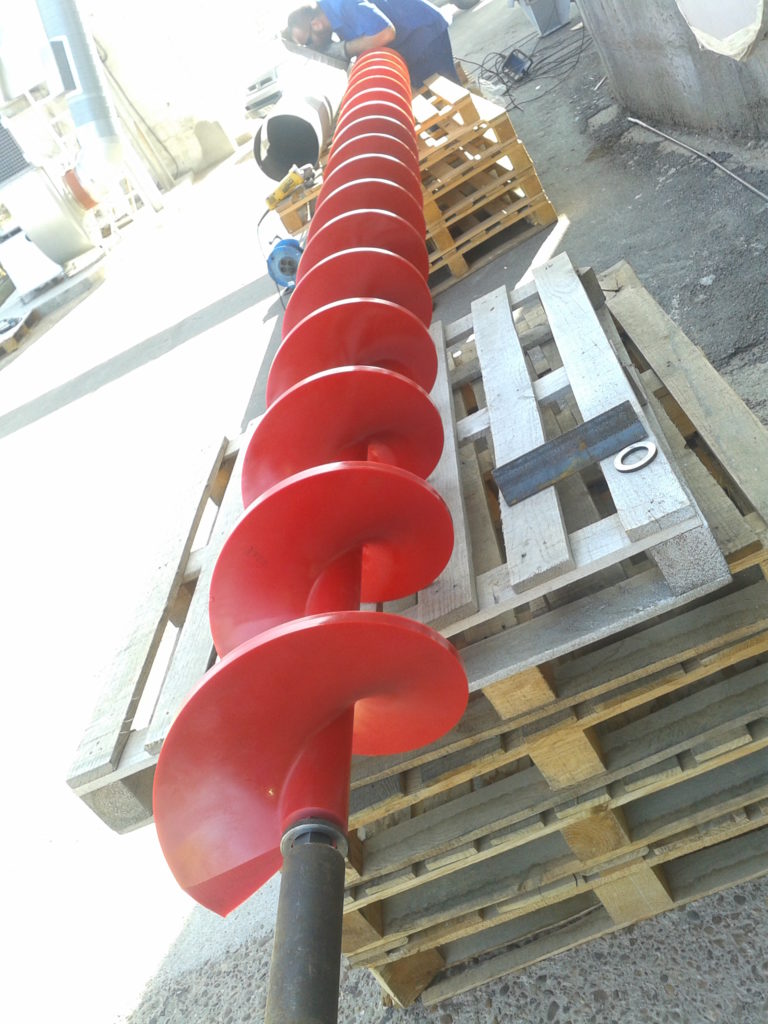 Archimedys™ equips a cereal storage unit
One of our Spanish customers, a leader in cereals distribution and storage, has chosen Archimedys™ to renovate a corn conveyor. The emptying station for trucks charged with corn consisted of a large hopper how receive the harvest. At this hopper bottom, a steel auger was installed to return the corn to the various storage silos. The auger had a 304mm diameter and was 8 meter long. The steel version caused flow and maintenance problems. Intermediate bearings, which were essential to support the steel auger, were causing blockages and injuring the crop, particularly by pinching the corn kernels between flights and the tube.
Eight metre spans without intermediate bearings
The Archimedys™ modular system allowed maintenance staff to produce the replacement auger without any welding. The auger is assembled by simply stacking standard modules along an axle. The original motorization and bearings can be reused. The modification was done at a lower cost. The auger profile was easily adjusted, by placing short-pitch modules at the conveyor entrance.
Preserving crops and improving yield
Modules special geometry ensures a scraping effect along the conveyor tube walls. The product transported in this way is no longer pinched between the auger and the trough, causing the crop to be crushed and degraded. Archimedys™ avoids, during sowing for example, the destruction of a significant quantity of seeds during handling. The performance has been improved by almost 50%.
The Archimedys™ auger is ideal for the conveyor renovation or the agricultural machinery retrofitting.
These new technology advantages are quick handling by maintenance personnel, quick installation and existing components recovery. With a simple and compact design, the Archimedys™ auger is lighter than a steel auger. This greatly facilitates its installation. The auger is simply constructed, without any welding, by assembling the standard modules directly on site. If an accident occurs: damaged modules are replaced and then put back on the axles without having to replace the whole auger.
The techno-polymer used in its manufacture has a high corrosion resistance. Its abrasion resistance is often three times higher than that of steel.
Easy maintenance
The Archimedys™ advantages for maintenance are innumerable. Only the damaged modules are replaced and put back on the axle, not the whole auger. Maintenance operations are very simple and quick. Maintenance costs and times are reduced, as are operating losses due to downtime.
Archimedys™, technological revolution!
The Archimedys™ modular auger has so much advantages that more industrialists decide to switch from steel to Archimedys™. Join the Archimedys™ user community now!
Feel free to contacter us for any information. We carry out the study and the realization of the mechanical parts necessary for the installation. We can also help for the design of Archimedys™ for your installations.