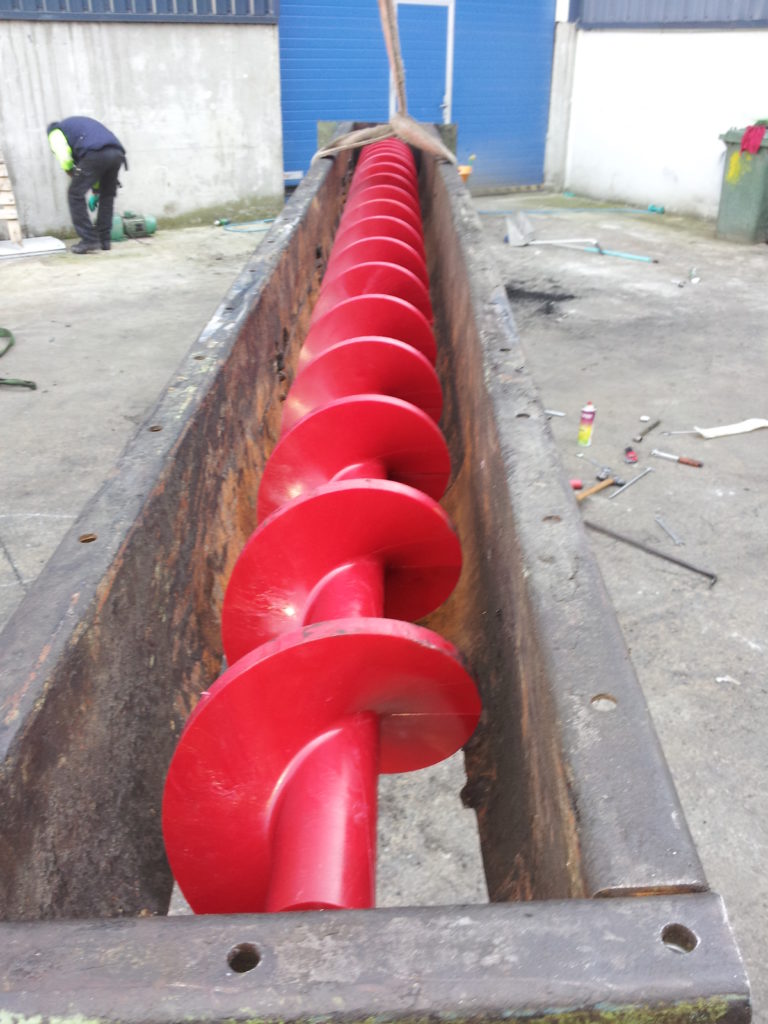 Archimedys™ equipped in a bio compost plant
The Archimedys™ solution was chosen by the city of Vitoria Gasteiz (Spain) for the renovation of an auger conveyor used for the treatment of bio compost.
The problems associated with a steel auger are fading away
A traditional steel auger therefore has too many disadvantages in such a place. The wear problems encountered by the customer result from the abrasiveness of the material and its tendency to compact under load. Maintenance is also made very difficult because it is impossible to repair the steel by welding due to the risk of fire.
The steel auger used by our customer is badly damaged: it is impossible to repair or replace the worn area easily. The middle of the auger is completely destroyed due to the compaction of the material under load. In this conveyor configuration, it is necessary to add short screw threads at the hopper inlet.
That's why the Archimedys™ auger fits the situation perfectly! It has high corrosion resistance. Its abrasion resistance is three times higher than that of steel. Even when continuously immersed in a basin, the auger is more resistant to corrosion than a conventional steel auger.
Moreover, with its simple and compact design, the Archimedys™ auger is lighter than a steel auger. This makes it much easier to install. The auger is simply constructed, without any welding, by assembling the standard modules directly on site.
Relatively improved maintenance
On the maintenance side, the advantages are also considerable! Indeed, only the damaged modules are replaced and put back on the axle in case of wear, and not the whole auger. Maintenance operations are therefore very simple and quick. Maintenance costs and times are considerably reduced.
Archimedys™, technological revolution!
The advantages of the modular auger Archimedys™ are such that more manufacturers decide to adopt it! From Many industries use auger technology for their bulk material conveyors. This is truly a technological revolution that is taking place in the conveyor industry.
Do not hesitate to contact us contact for any information. We carry out the study and the realization of the mechanical parts necessary for the installation or the adaptation of a Archimedys™ screw on your installations.