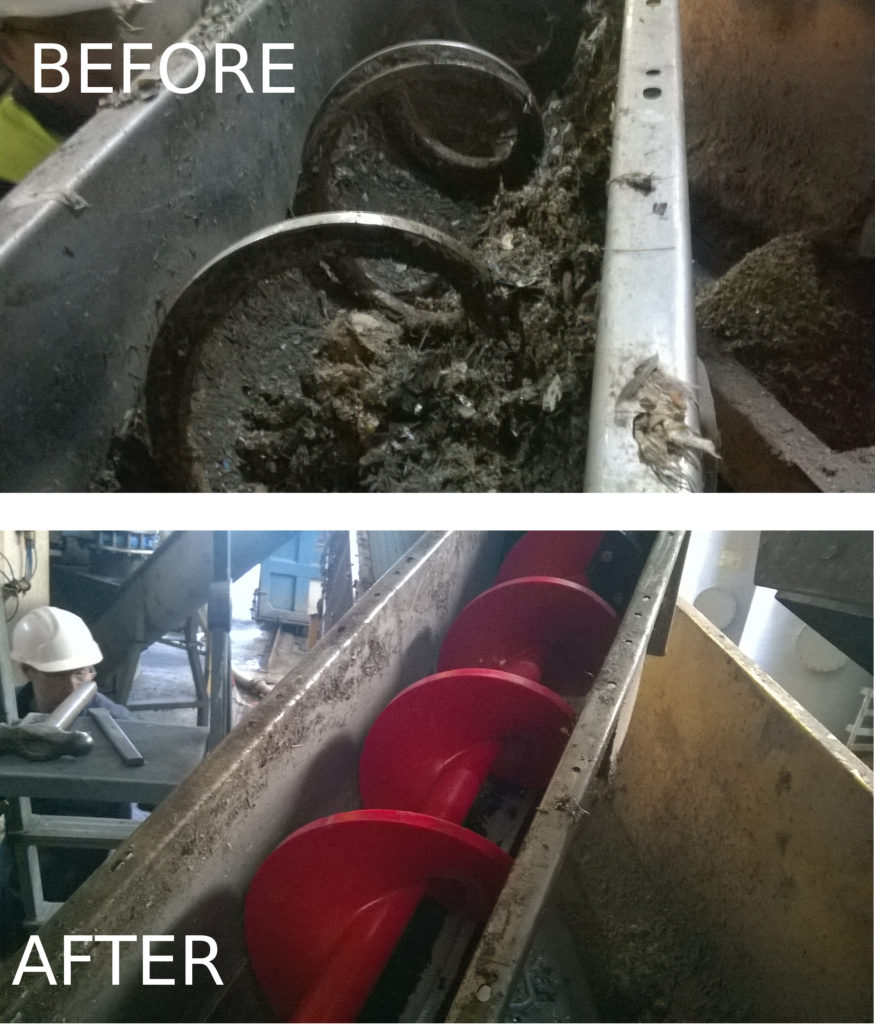 Archimedys™ used in the treatment of organic waste
One of our customers, a specialist in the treatment and recycling of organic household waste, has chosen Archimedys™ for the replacement of a steel conveyor auger. The latter turned to the modular auger to improve the life of a conveyor that was posing problems of abnormal wear, noise and high maintenance costs.
The problems associated with a steel auger are fading away
In this type of conveyor, the intermediate bearings cannot be fitted to a steel auger. Indeed, it rests on the bottom of the trough, equipped with bearing pads.
Abrasive wear of the auger and trough due to simple friction was the main problem to be solved. The aggravating factor was the product to be transported, which sometimes included sand, glass and water.
Archimedys™, which does not require intermediate bearings, has made it possible to simply solve all these problems. The site maintenance teams assembled the auger at the foot of the conveyor without any handling equipment. The auger to be replaced had a diameter of 300 mm (12") and was three meters (10") long. The plant maintenance team took charge of the construction of the auger Archimedys™ and the replacement on site. No conveyor modifications were required. Translated with www.DeepL.com/Translator (free version)
Improved maintenance!
In the event of major incidents, only damaged modules are replaced. The auger is no longer replaced completely. Maintenance operations are quick and easy. Downtime and maintenance costs are reduced.
Archimedys™ , technological revolution !
The advantages of the modular auger Archimedys™ are such that every day more and more industrialists decide to abandon steel in favour of polymers. Therefore, it is a real technological revolution that we are witnessing in the bulk sector.
If you would like to know more about our polymer auger Archimedys™, we invite you to contact us without further delay. We accompany you in all your projects by offering you the equipment best suited to your activity.