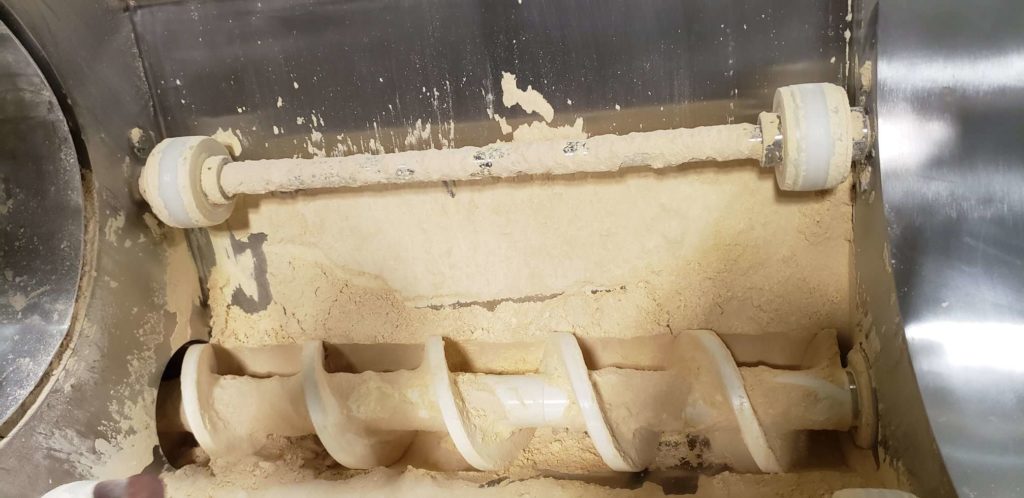 Archimedys™ obtains the MAPAQ classification for the flour bags emptying in Canada
Our modular auger solution has obtained the MAPAQ classification in Canada. Archimedys™ was chosen by one of our Canadian customers to improve the emptying flour bags operations. At each cycle, our customer was losing approximately 500 g (17 once) of material per 25 kg bag (881 once). This loss was due to the metal screw inefficiency used in their process. Archimedys™, due to its modular construction and in its food configuration, allowed easy adjustment of the auger profile. Losses per bag practically disappeared!
This solution will be standardized on all flour bags emptying installations in Canada. Archimedys™.
Archimedys™ auger is ideal for the conveyor renovation
These new technology advantages are quick handling by maintenance personnel, quick installation and existing components recovery. With a simple and compact design, the Archimedys™ auger is lighter than a steel auger. This greatly facilitates its installation. The auger is simply constructed, without any welding, by assembling the standard modules directly on site. If an accident occurs: damaged modules are replaced and then put back on the axles without having to replace the whole auger.
The techno-polymer used in its manufacture has a high corrosion resistance. Its abrasion resistance is often three times higher than that of steel.
Easy maintenance
The Archimedys™ advantages for maintenance are innumerable. Only the damaged modules are replaced and put back on the axle, not the whole auger. Maintenance operations are very simple and quick. Maintenance costs and times are reduced, as are operating losses due to downtime.
Archimedys™, technological revolution!
The Archimedys™ modular auger has so much advantages that more industrialists decide to switch from steel to Archimedys™.
Modular auger Archimedys™ received the "Prix de l'innovation industrielle" in 2011
Join the Archimedys™ user community now!
Feel free to contact us for any information. We carry out the study and the realization of the mechanical parts necessary for the installation. We can also help for the design of Archimedys™ for your installations.