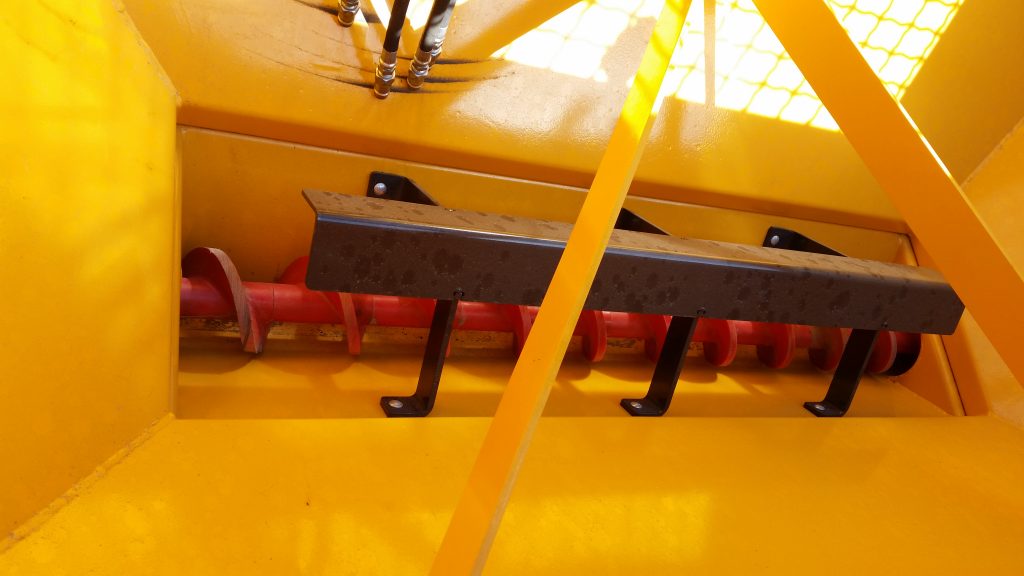 Archimedys™ used to equip spreaders
Our modular auger solution, Archimedys™ has been chosen to equip spreaders in Canada. Salt is a very abrasive material that corrodes most installations. The equipment deteriorates very quickly and the steel screws are not easily replaceable on trucks.
Even after 4 years of service, the installation is like new. No corrosion or visible wear and tear, maintenance and servicing are no longer necessary for a long period of time. If an accident occurs, simply replace damaged modules. Salting activities can be restarted very quickly. This is very important in case of heavy snow events where no shutdown is possible.
A standardisation of Archimedys™ is planned on salting equipment in Canada.
Archimedys™ : advantages
Main advantages of this new technology are the need for quick handling by maintenance personnel, quick installation, and recovery of existing elements. Equipped with a simple and compact design, the Archimedys™ auger is lighter than a steel auger. This greatly facilitates its installation. The auger is simply constructed, without any welding, by assembling standard modules directly on site. Moreover, if damaged, modules are replaced in case of accident. They are then put back on the axle without having to replace the whole auger.
The techno-polymer, used for its manufacture, has a high corrosion resistance. Its abrasion resistance is often three times higher than steel.
Easy maintenance
The Archimedys™ advantages for maintenance are innumerable. Only the damaged modules are replaced and put back on the axle, not the whole auger. Maintenance operations are very simple and quick. Maintenance costs and times are reduced, as are operating losses due to downtime.
Archimedys™, technological revolution
The Archimedys™ modular auger advantages are such that more manufacturers decide to abandon steel in favour of Archimedys™.
Modular auger Archimedys™ received the "Prix de l'innovation industrielle" in 2011
Join the Archimedys™'s community !
Don't hesitate to contact us !