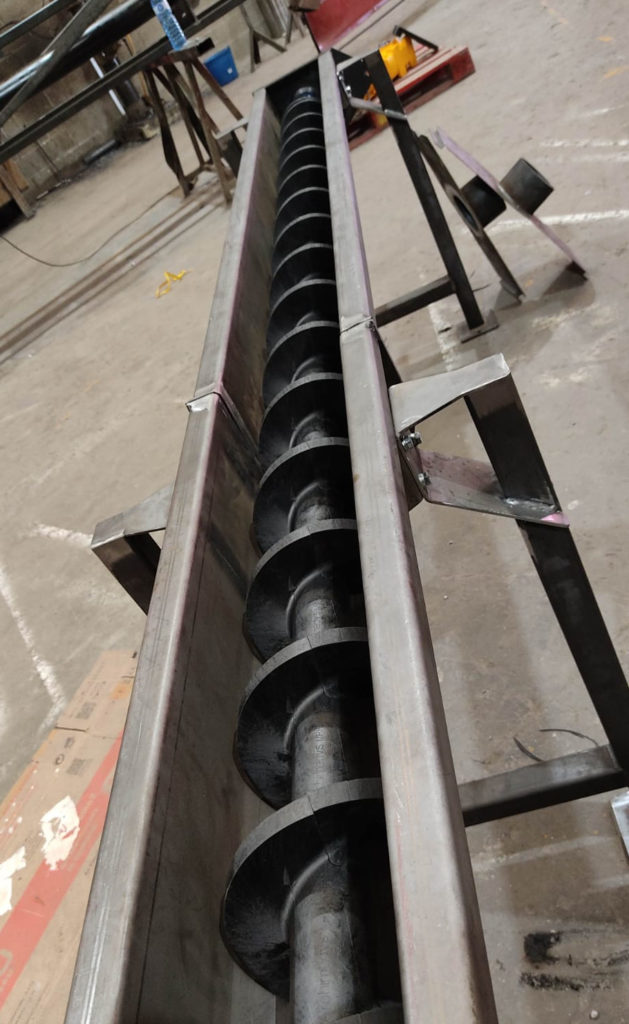 Archimedys™ for a 9 meter ATEX20 auger in Spain
Archimedys ™ was chosen by one of our customers in Spain to equip its installation with a 9 meter long ATEX20 auger. Our customer recovers filtration dust loaded with metallic particles highly explosive. These are residues from zinc processing. An 9 meters long Archimedys ™ auger in DN 150 is installed under three hoppers which feed in turn the conveyor whose role is to safely transfer these dusts to a storage unit.
Our customer decided to replace an existing installation by Archimedys ™ in order to avoid the recurring problems of breakage and wear encountered with the steel auger. During the maintenance operations, several days were necessary to carry out a repair. With the modularity of the Archimedys ™ system, only a few minutes are enough.
The study and realization is made by SAFER TECH, our partner Arcimedys ™ in Spain.
Archimedys™, the ideal solution for conveyor refurbishment
Main advantages of this new technology are the need for quick handling by maintenance personnel, quick installation, and recovery of existing elements. Equipped with a simple and compact design, the Archimedys™ auger is lighter than a steel auger. This greatly facilitates its installation. The auger is simply constructed, without any welding, by assembling standard modules directly on site. Moreover, if damaged, modules are replaced in case of accident. They are then put back on the axle without having to replace the whole auger.
The techno-polymer used for its manufacture has a high resistance to corrosion. Its abrasion resistance is often three times higher than steel.
Easier maintenance
The Archimedys™ advantages for maintenance are innumerable. Only the damaged modules are replaced and put back on the axle, not the whole auger. Maintenance operations are very simple and quick. Maintenance costs and times are reduced, as are operating losses due to downtime.
Archimedys™, a technological revolution!
The modular auger Archimedys™ advantages are such that more and more industrialists decide to abandon steel in favour of Archimedys™.
Modular auger Archimedys™ received the "Prix de l'innovation industrielle" in 2011
Join the Archimedys™ user community!
Do not hesitate to contact us for any information. We carry out the study and the realization of mechanical parts necessary for the installation or adaptation of an Archimedys™ auger on your installations.