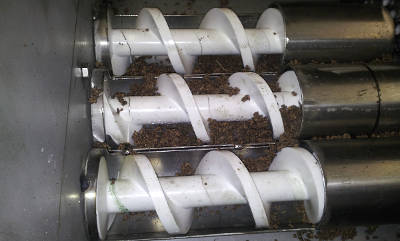 Archimedys™ equips an olive stone compactor
The solution Archimedys™, modular auger, has been chosen by a Belgian company to equip their new production unit of olive pellets for home heating.
The problems associated with a steel auger are fading away.
Recycling of olive pits as a source of energy for heating homes is becoming more democratic. The manufacture of pellets, after compacting the pits into a small sphere, is becoming more and more popular. allows its use in conventional wood boilers.   Archimedys™ fits perfectly to this use. These cores may be sticky and may agglomerate during conveying. Archimedys TM modules are made of a non-stick material that facilitates the sliding of the transported product, thus reducing the risks of gluing and stuffing. The modularity of the Archimedys system also allows to to use the same components for all screws of different lengths used in the compaction machine.  
An Archimedys™ auger brings many advantages for the construction of special machines compared to traditional steel augers.
abrasion resistance, often three times higher than that of steel
resistant to corrosion
design compact.
light compared to steel
seamless assembly
Easy maintenance
In the event of an incident, only the damaged modules are replaced and put back on the axles without having to replace the auger. Maintenance operations are simpler and very fast. Maintenance costs and response times are reduced.
Archimedys™, technological revolution!
The advantages of the modular auger Archimedys™ are such every day that industrialists decide to abandon steel in favour of the Archimedys system. It is truly a technological revolution that we are witnessing in the transport of bulk products.
Don't hesitate to contact us contact for any information. We carry out the study and the realization of the mechanical parts necessary for the installation or the adaptation of a Archimedys™ auger on your installations.